About Us
Welcome! My name is Mark F. Butler, founder and executive director of ACT International, Inc. I have built my career as an airline pilot for a major domestic and international airline. Recently I just completed my 40th year as an international captain of an Airbus A330 flying to Europe and Asia. I retired from that position in February 2018. As a second vocation while flying I became a licensed stockbroker in 1983 and later obtained my own member firm which operates today as a Registered Investment Advisory firm with many private clients.
Over the last 35 years being a licensed stockbroker I have studied and learned the skills of the markets. With this knowledge and experience I have been able to apply what I have learned to this organization. The financial modeling concepts are truly amazing.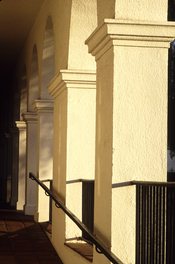 In 2007, I organized Gulfstar Corporation located in Cheyenne, WY as an oil and gas investment company. See www.gulfstarcorporation.com for more information. With this company I applied the financial modeling concepts as mentioned above the results speak for themselves.
Every great dream begins with a dreamer. Always remember you have it within you; the strength, the patience, and the passion to reach for the stars to change the world. But remember a dream is only a dream until you put a time limit on that dream it then becomes an action plan.
US- registered ™ ACT International, Inc. What One ACT Of Kindness Can You Do Everyday" was organized to utilize all the entrepreneurial skills, business knowledge and experience I have gained over the last 37 years to help others succeed.
First and foremost, what I have learned is that people, no matter where they are from or what color or religion they have, all are pretty much the same. We all have the same wants and needs. We all share the same challenges. And we all want what is best for our families.
..
What brought about the creation of this organization was personally witnessing extreme poverty and the needless suffering of people around the world. We all have a responsibility to acknowledge this situation and participate in correcting our world's challenges. If we do not who will? My vision for ACT International, Inc. is to create a vehicle which would raise funds on a global basis for specific projects that we are passionate about. The fund raising campaign would be continuous but we will only ask for a very small amount of money from each giver. Global givers may give more if they wish but the basis of our organization is to ask for a little from a lot of people. It works!
ACT International, Inc. has been established since 1999. During the last 20 years, we have been able to assist people with food, clothing, and counseling. All these efforts enabled us to assist other charitable organizations with their programs. We have two specific areas of funding. One direct funding for a specific project and two revenue model funding.
Revenue Model Fund  Funds received via donations for this purpose are deposited into our securities brokerage account. We have created a portfolio that produces approximately a 7.5% annual return and pays its dividends on a monthly basis. Your donation to this account will never be spent it will stay in the model at all times. A donation made once that last for many years. Plus you receive a tax deduction. Income from this model will be used to pay for operating expenses of the organization. With a well funded model it eliminates the need for continuous fund raising just for existence and allows more time and effort to be applied to mission assignments.
Direct Funding  Just as it applies helping fund projects that we have agreed to help raise funding for. As you read through this site we outline the projects we have expertise in and passion for.
We need people to trust and believe that giving to those truly in need is good.The ultimate gift is giving to someone you will never know.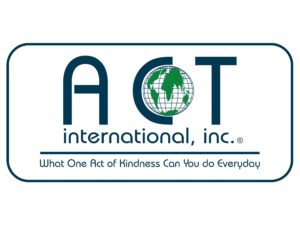 ACT International, Inc.
Character is not what one does when they can be seen.
Character is what one does when they can not be seen.
ACT ( I ) The Organization
In November 1999 this organization was established and incorporated in the State of Delaware as a nonprofit corporation. On December 29, 2000 the corporation received its status ruling from the United States Department Of The Treasury (IRS) that the corporation has qualified as a section 501(c)(3) publicly supported organization. Copies are available upon request please write Post Office Box 751 South Windsor, CT 06074. All contributors may rely on this determination and qualify for tax deductions. Please make all checks payable to; ACT International, Inc. POB 751 / 950 Sullivan Ave., Suite 19 South Windsor, CT 06074. Please do not send cash through the mail. Upon receipt of your contribution, you will receive a detailed acknowledgment and confirmation for your accounting/tax purposes. Marketable securities may be donated. For tax purposes, the value will be marked at the market at the time of sale. For continuous monthly contributions, please request our monthly bank draft program, see our Donation page for options. ACT International, Inc. reserves the right to either accept or reject any and all contributions.
ACT International, Inc. is listed in Guidestar, a non-profit directory of certified non-profit organizations
ACT ( II ) OUR MISSION STATEMENT
To utilize the resources of the Internet and other media to create a worldwide network of individuals and organizations who seek to accomplish a specific goal via our global giving program.
ACT International, Inc. is growing worldwide. Come join us ! Everyone is welcome, Everyone is needed !